Golden paddocks, olive trees and a charming old school country hall was the setting for Matt & Sam's country Italian affair. A country style farm wedding, minus the hay bales, the couple's brief for their big day was 'make it formal, but make it fun'. With no phone reception, and the option to sleep under the stars, their guests were welcomed onto the family property with lots of love, laughter and limoncello. 
We interviewed the couple to get the inside scoop on how they went about planning their private property wedding.  If you also have decided to wear your own wedding planner hat, then keep scrolling for all of the inspo!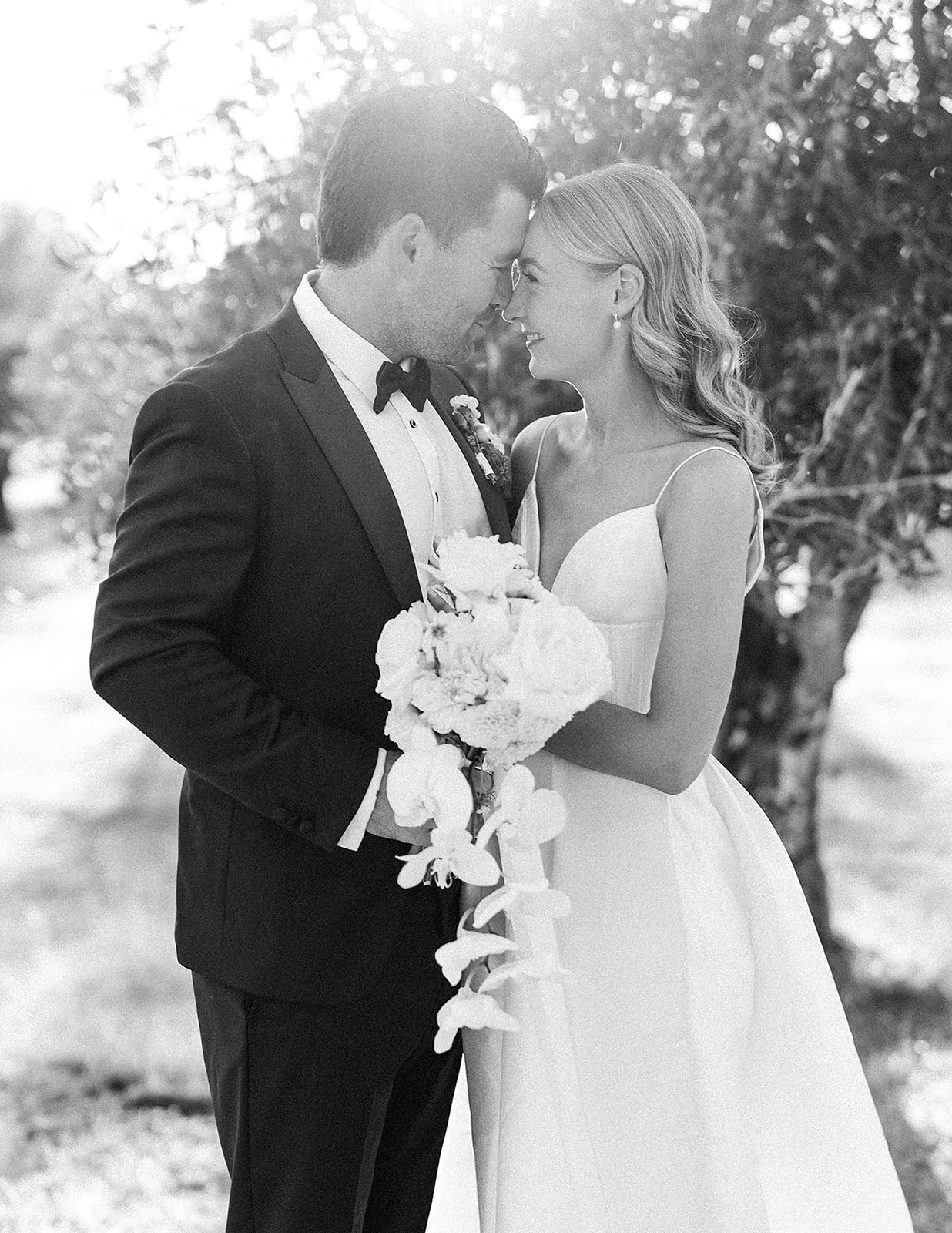 THE VISION
A modern Italian garden affair with a splash of country wedding fun.
We spent some time in Italy together early on in their relationship, which is something that we both value as part of our story. That, along with Matt's Italian heritage and the family farm in the 'Italian' part of town where Matt grew up and where we now live, our 'modern Italian affair' vision came to life.
Sam has a creative brain and a DIY attitude (Matt), so pitching the idea of a DIY farm wedding to her was a sure thing. 
We developed a palette which drew on inspo from Italy, as well as the natural environment of the farm. Think golden paddocks, olive trees, and a mixture of terracotta, natural stones and raw edges. Tied in with warm whites, soft natural linens and touches of yellow and blue throughout.

THE VENUE
Our ceremony took place in a paddock on the farm, overlooking the gorgeous country scape. We kept our ceremony styling minimal, and made the natural elements the focus. When you see the view you will understand why!
The reception took place at the Changerup Hall, an old country hall with a lot of character, only a few kilometers from the farm. The hall holds a special significance to Matt's family, so it was only fitting that we add to the milestone events that have taken place there over the years, and turn the hall into a dreamy haze of natural linens, golden hues and fluffy baby breath clouds to compliment its rustic bones.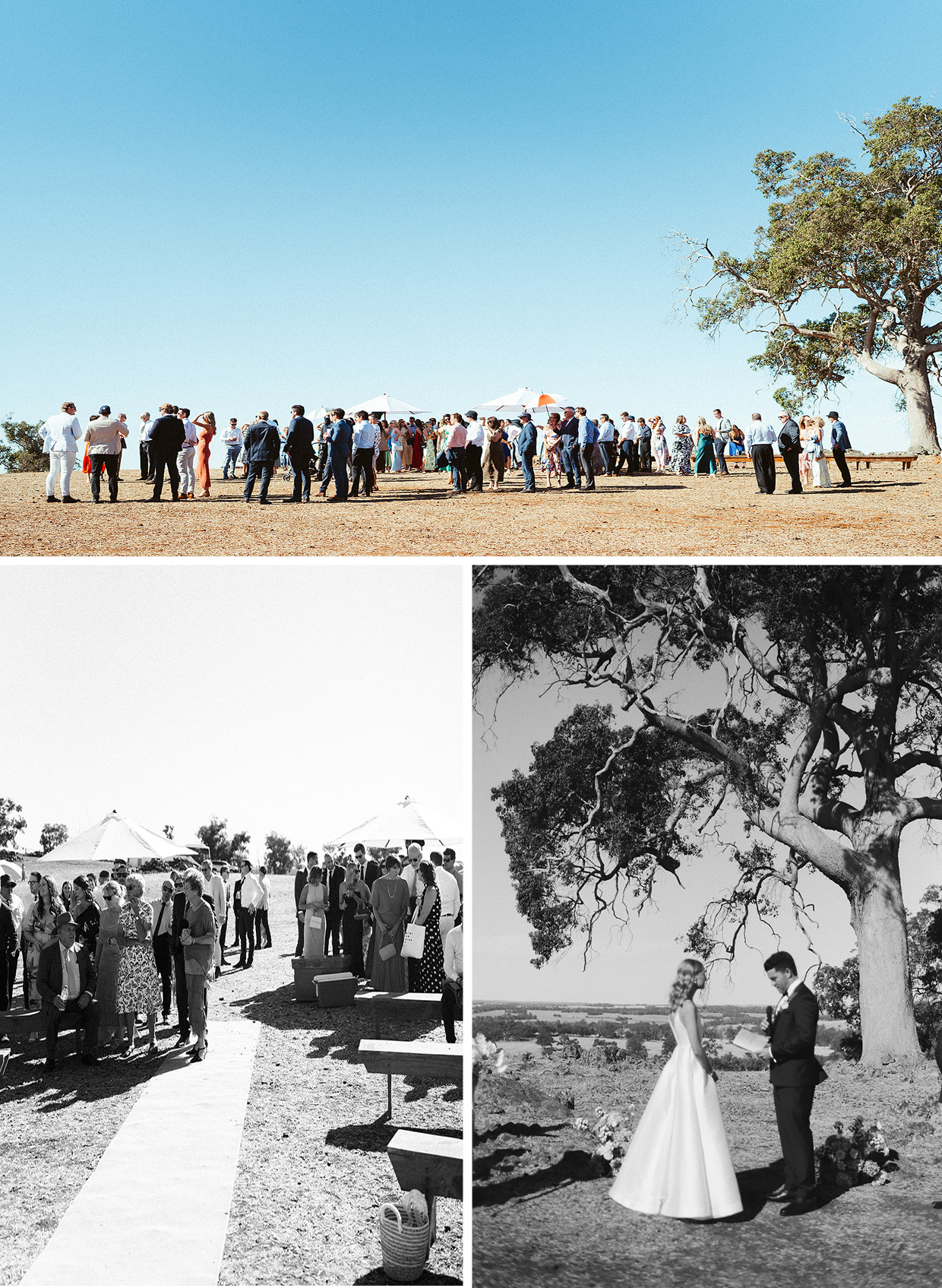 STYLE
(Sam) I'm a graphic designer by trade, and I didn't hold back when putting together our mood board and brief (it was probably a little OTT looking back at it now) BUT, I think this definitely helped when it came to our styling – hint hint, to all of you our there planning your own wedding, take the time to put together a detailed mood board and styling brief!
Our country Italian theme was present in all aspects of the day, from the menu, to the décor and even the music. We planned for our DJ to play 'That's Amore' by Dean Martin (one of our faves) after the first dance to get all of our guests up on the dance floor, and boy was it a hit!
 With the setting and venue drawing on the rustic, natural influence of Italy, we brought in a hint of modern through our furniture selections. Our cocktail space was styled with Hire In Style's natural ribbed bar, rattan bar chairs & bar tables and wicker lounge package, and the reception showcased their gorgeous natural rattan dining chairs, ribbed glassware and gold accents on the table-scape.
Our legend of a florist Prue, from @thegoodbatchco incorporated lemons and lemon branches into our bar arrangements and the stationery drew on the classic European flair style of handmade paper, travertine table numbers, linen signage and a big, obnoxious linen seating chart which hung from the roof of the hall.
We worked with Supper Road to create a banquet style menu that showcased Italian inspired ingredients and dishes, our bar menu featured our favourite Italian beers, wines and of course a limoncello spritz as our signature cocktail. We wanted to bring a wholesome family touch to our day, so we asked our families to help us create a family dessert table, which featured the Italian family recipes we love.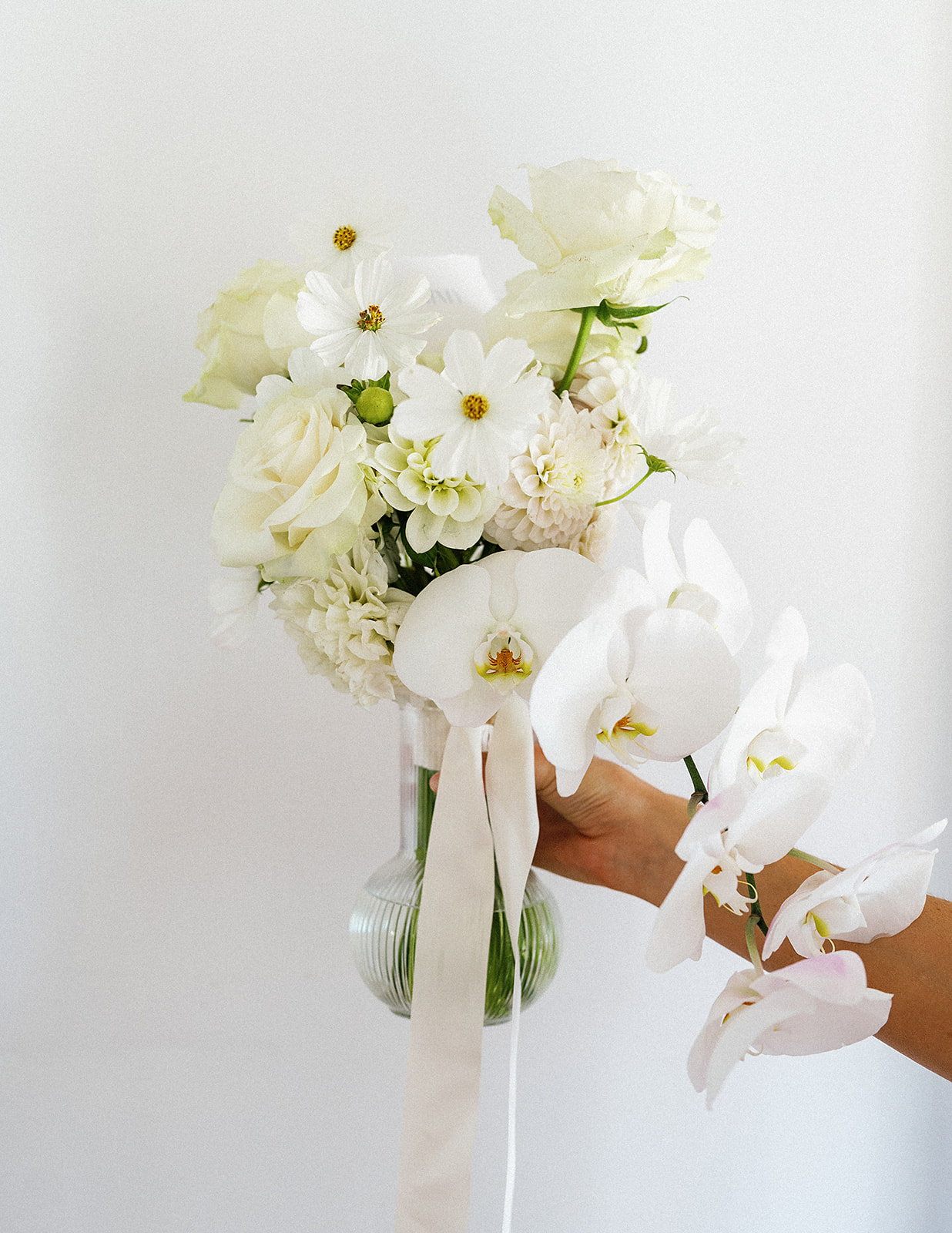 DIY
THE LOT (well nearly)
 We did nearly everything ourselves, with the help of our friends and fam. It was so humble to see how many people wanted to contribute their time and energy for us – SO spesh!
Everyone really rallied around us. From keeping 50 petunia plants and rose bushes alive over the summer months, to sewing linen curtains, and spending 2 separate weekends cleaning AND painting the hall. Not to mention collecting ornate vases, stocking the cool rooms, cooking, and of course the week long set up and pack down the next day. It was mammoth act of love, that's for sure.
Matt is pretty handy with woodwork, so he made our cake stand and dessert table grazers from wood on the farm, plus our signage stands and a few extra bits and bobs for the day, and I'm a wedding stationery designer so all of the stationery was on my to-do list. We even made our own wedding cake, it was no picture perfect job but it tasted good.
INVOLVEMENT
 We were 100% involved in the whole process, from planning, to set up and styling. (Matt) Sam is a self-proclaimed control freak when it comes to organisation, so she was always going to be in the driver's seat when it came to planning our wedding!
Being a private property wedding, we had to do pretty much everything ourselves, from prepping the venue, organising power and water connection and coordinating the logistics of transport for our guests. We put together the run sheets, timelines and floor plans ourselves.  
What we didn't hire, we brought ourselves, like the terracotta pots, vases, posy vases and décor items, and what we didn't buy, we made. We were lucky enough to have Hannah from Hire In Style as our On-The-Day Coordinator so we didn't have to worry about much the day of, she also set up the reception space for us turning the old hall into a soft n chic, candle lit dream!
BEST INCLUSIONS / FAVE DEETS
We were set on having our bridal photos down by the olive trees, which were of course at the opposite side of the farm to the reception. So we decided to ride in style on the back of the truck for our bridal photos, chauffeured by Matt's dad. Everyone said to us that our bridal photos will be one of the highlights of the night, and boy they were not wrong!
We decided to put disposable cameras on the tables – a risky decision, but they turned out a treat! We wanted some BTS content of our guests, you know the silly stuff the camera doesn't always capture. We developed these a few days after the wedding and were so over the moon with how they turned out.
Oh and our dog surprised us at our reception! We were just about to sit down to eat when he showed up at the hall. Obviously he didn't want to miss out on the party!
Though the best inclusion was that all of our vendors had a connection to us, which made the whole experience so much more enjoyable! Our photographer was one of our bridesmaids sisters, our acoustic duo, DJ and florists are friends of ours, our celebrant is an ex-local and friend of the families. We were so lucky to have such a talented and diverse group of humans we call friends. 
WORD(S) OF ADVICE
Don't be afraid to ask for help, and remember to show gratitude to everyone who helps you along the way.  Wedding planning is a big job, but when it all comes together and all of the little details fall into place and you see all of your hard work in action, it's SO worth it!
Pace yourself – on the night that is. We planned to stay sober enough to remember our day, and we are so glad we did! The day went by so quickly, and we didn't need alcohol to have fun. We were on such a high we danced ALLLLLL night. 
Make sure you take 10 minutes for yourself as a couple on the day. You hear everyone say it, and we can 100% vouch for it. Step away from the crazy and just chat, take it all in and remember that everyone is there to celebrate you. It's a truly surreal feeling and something that you need to take in.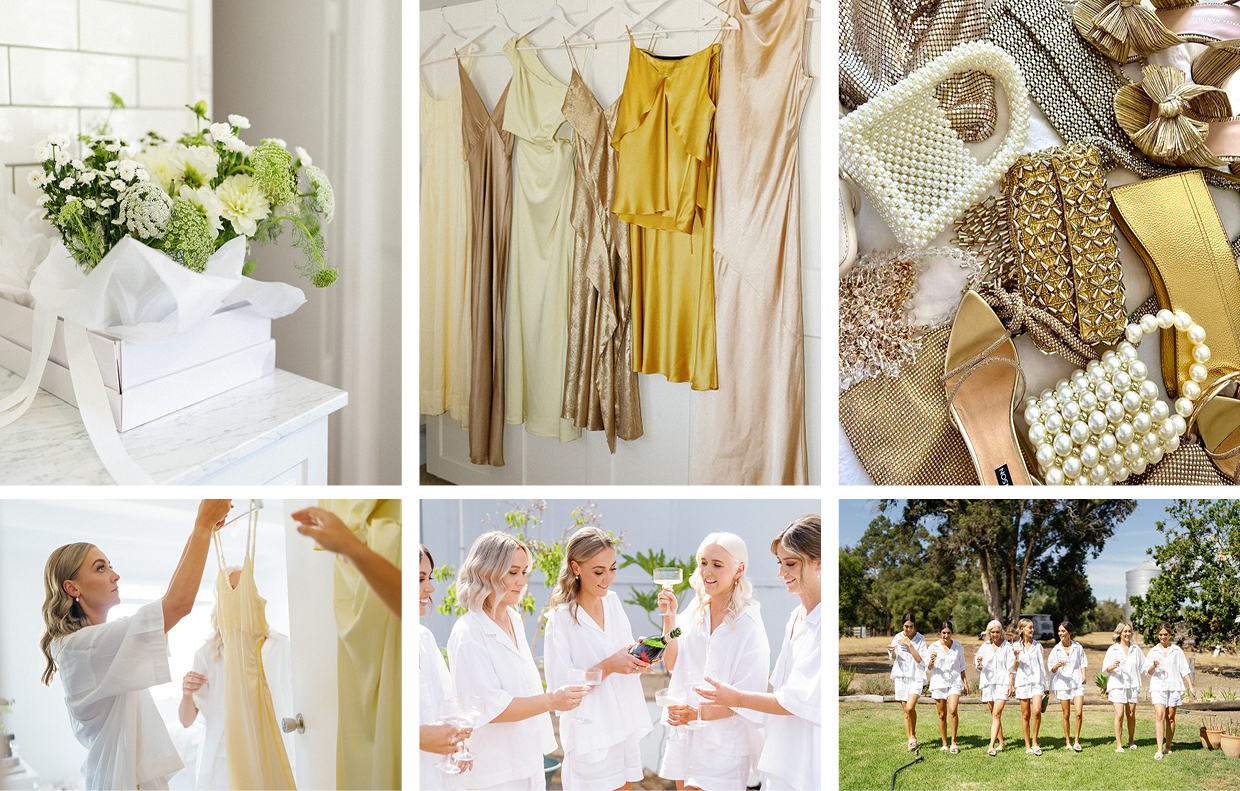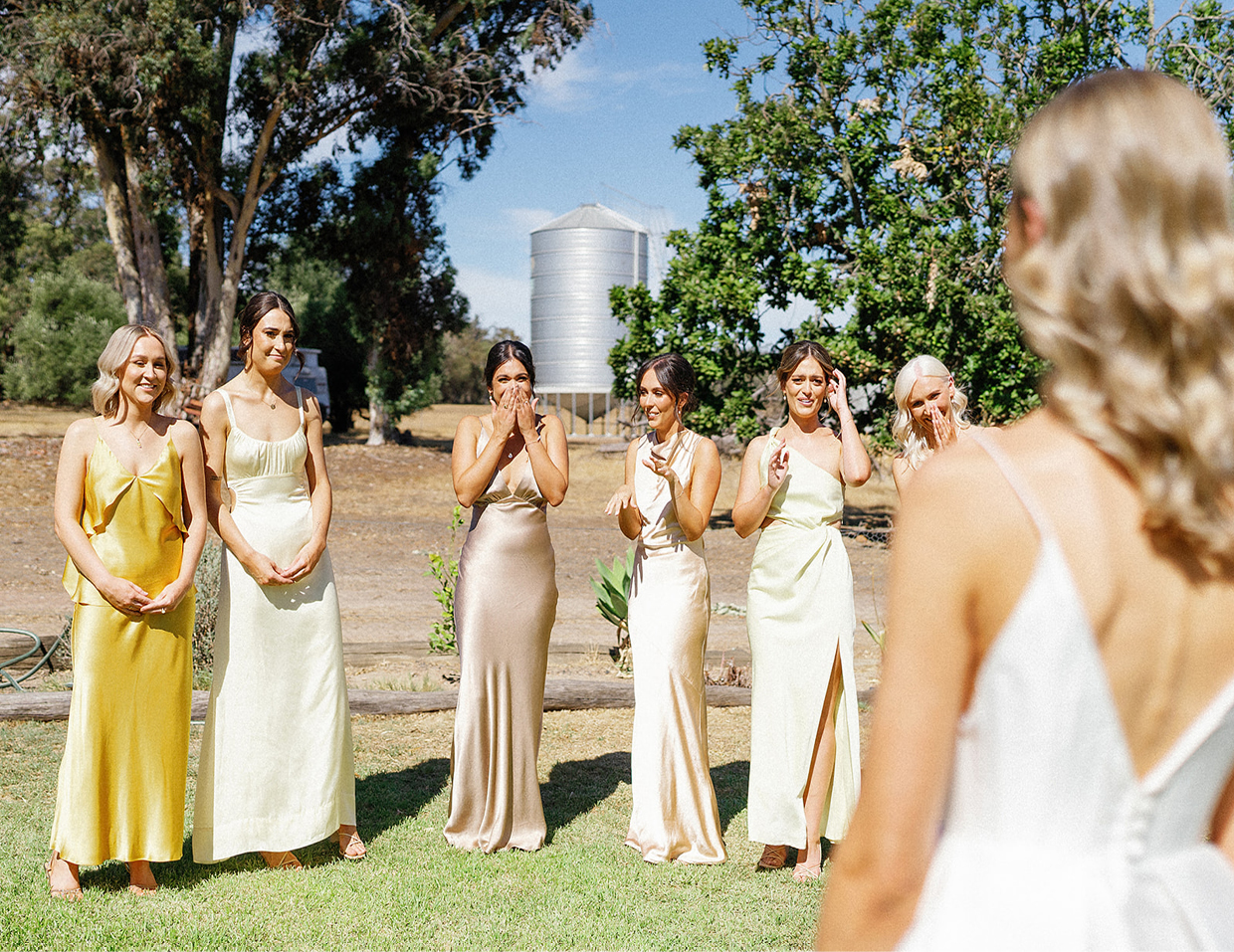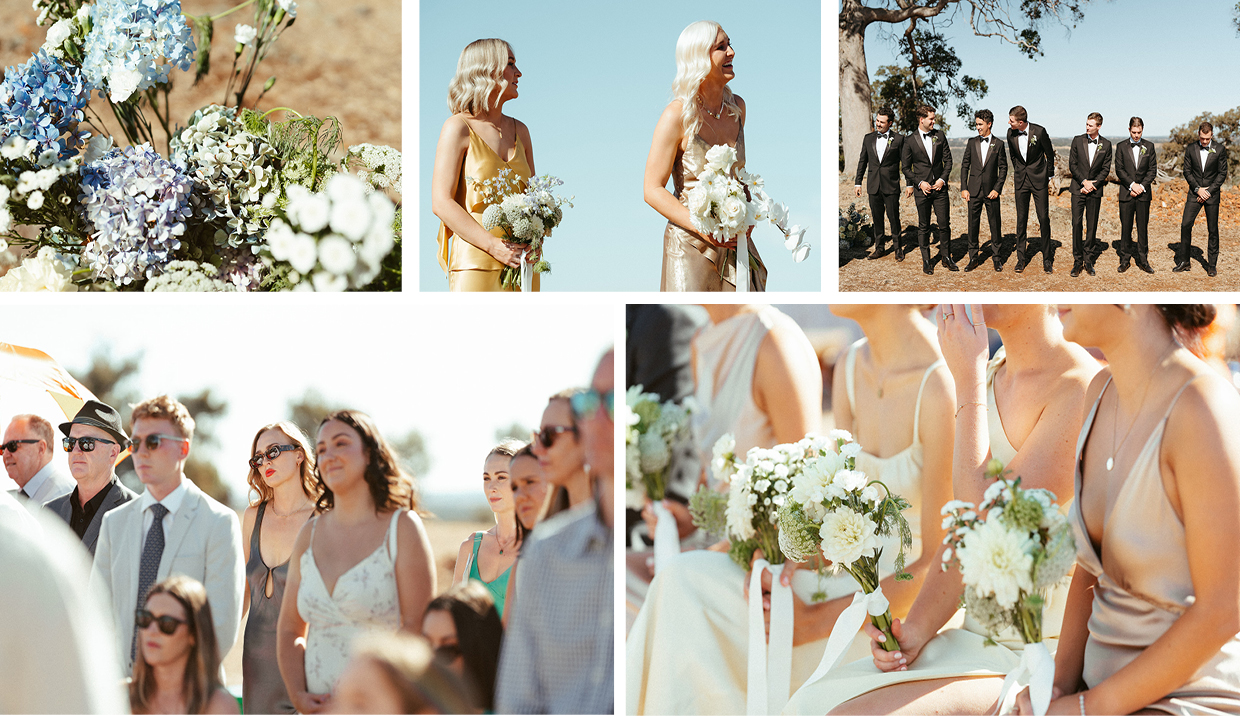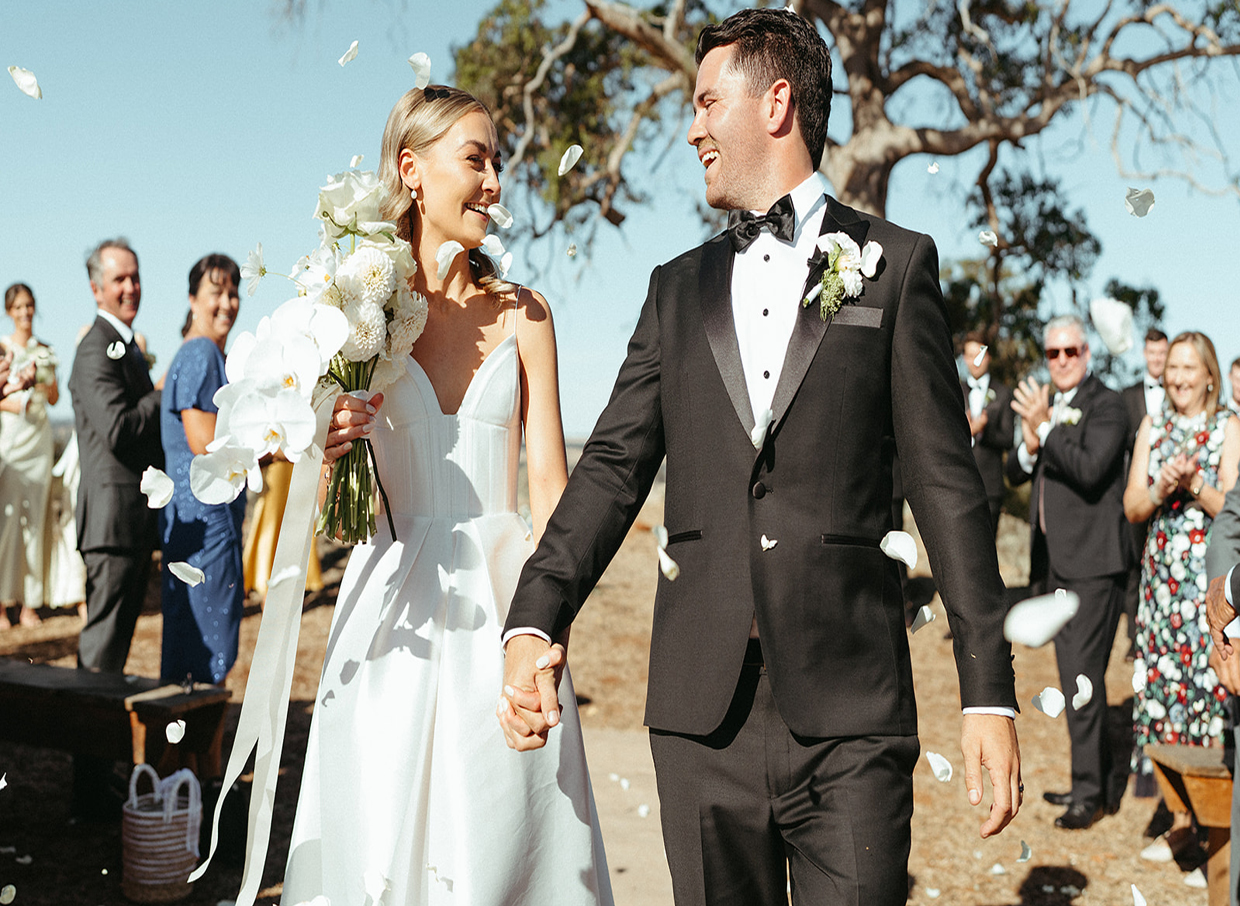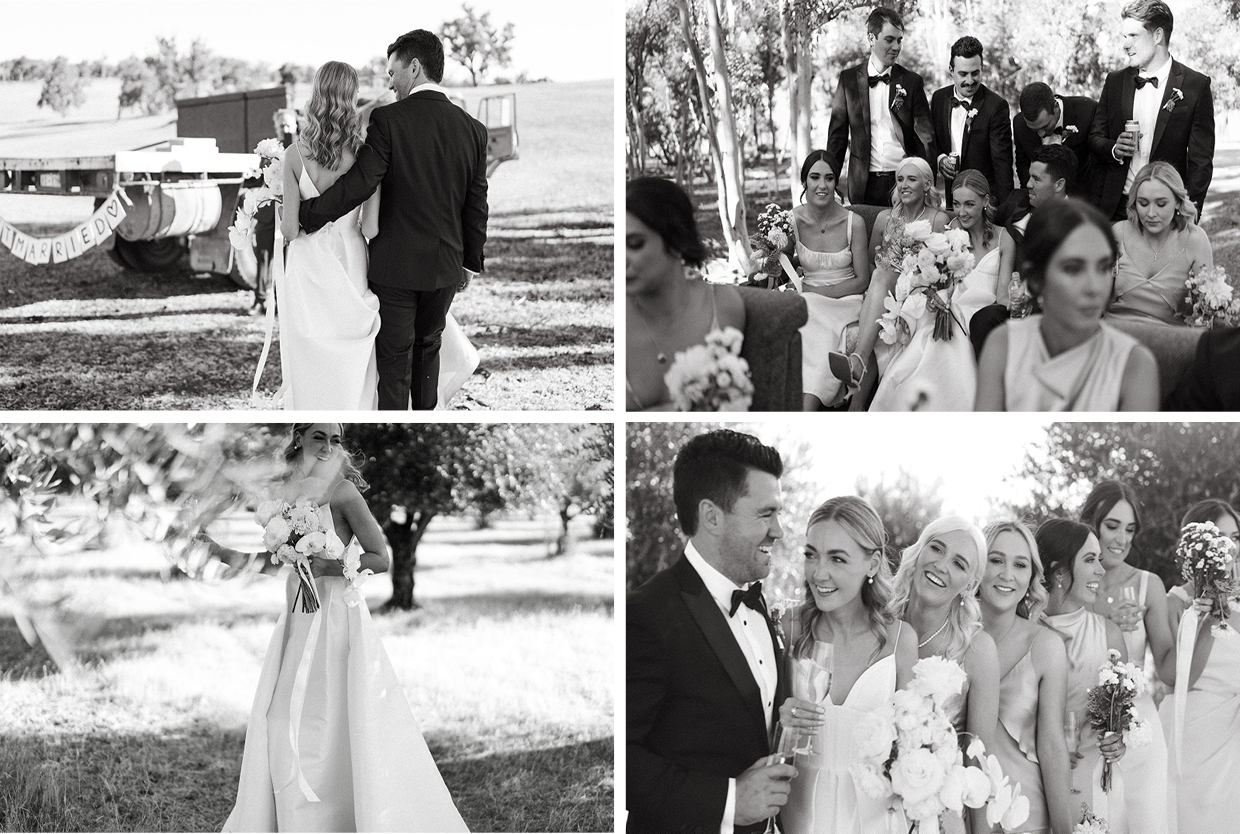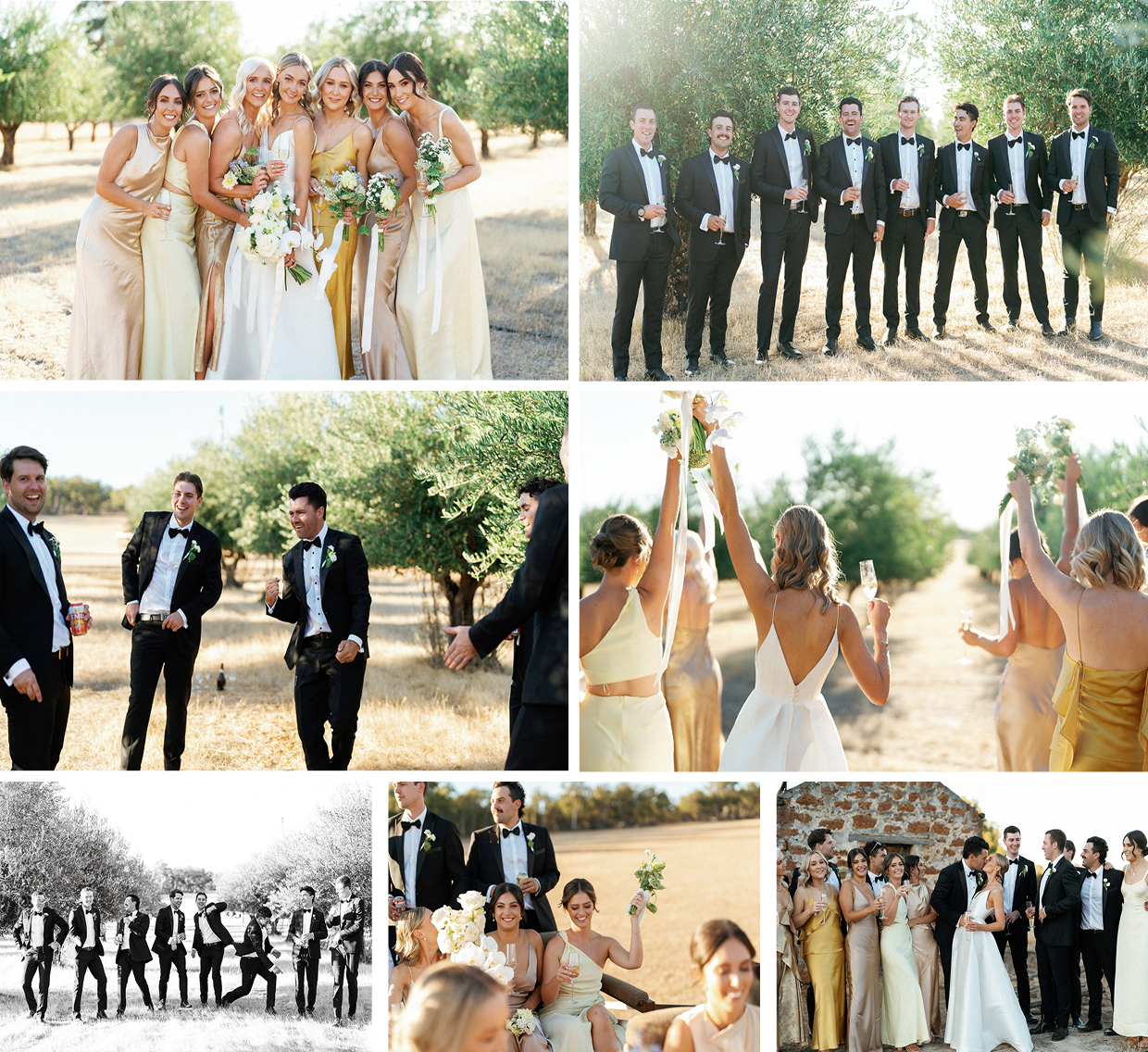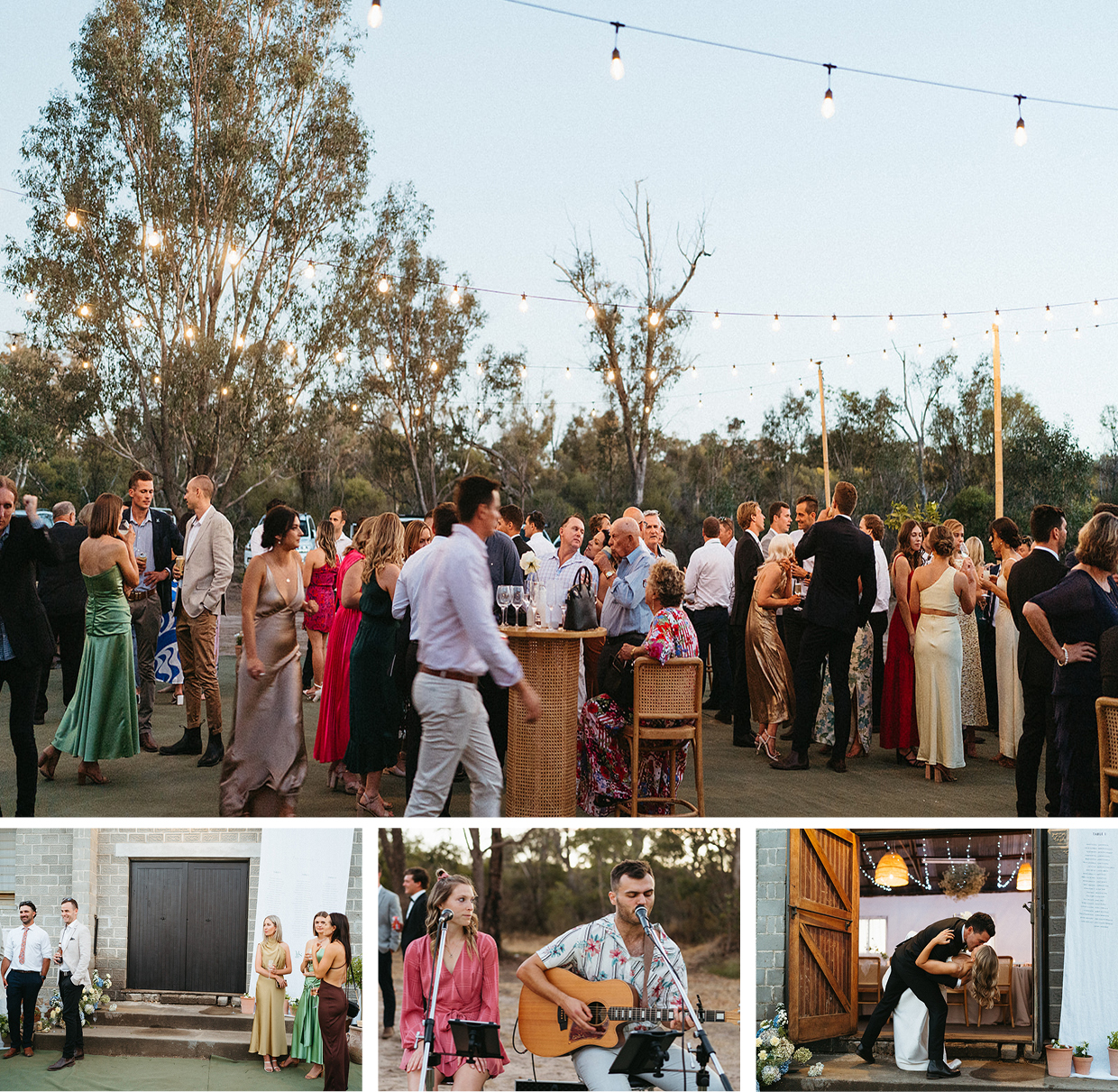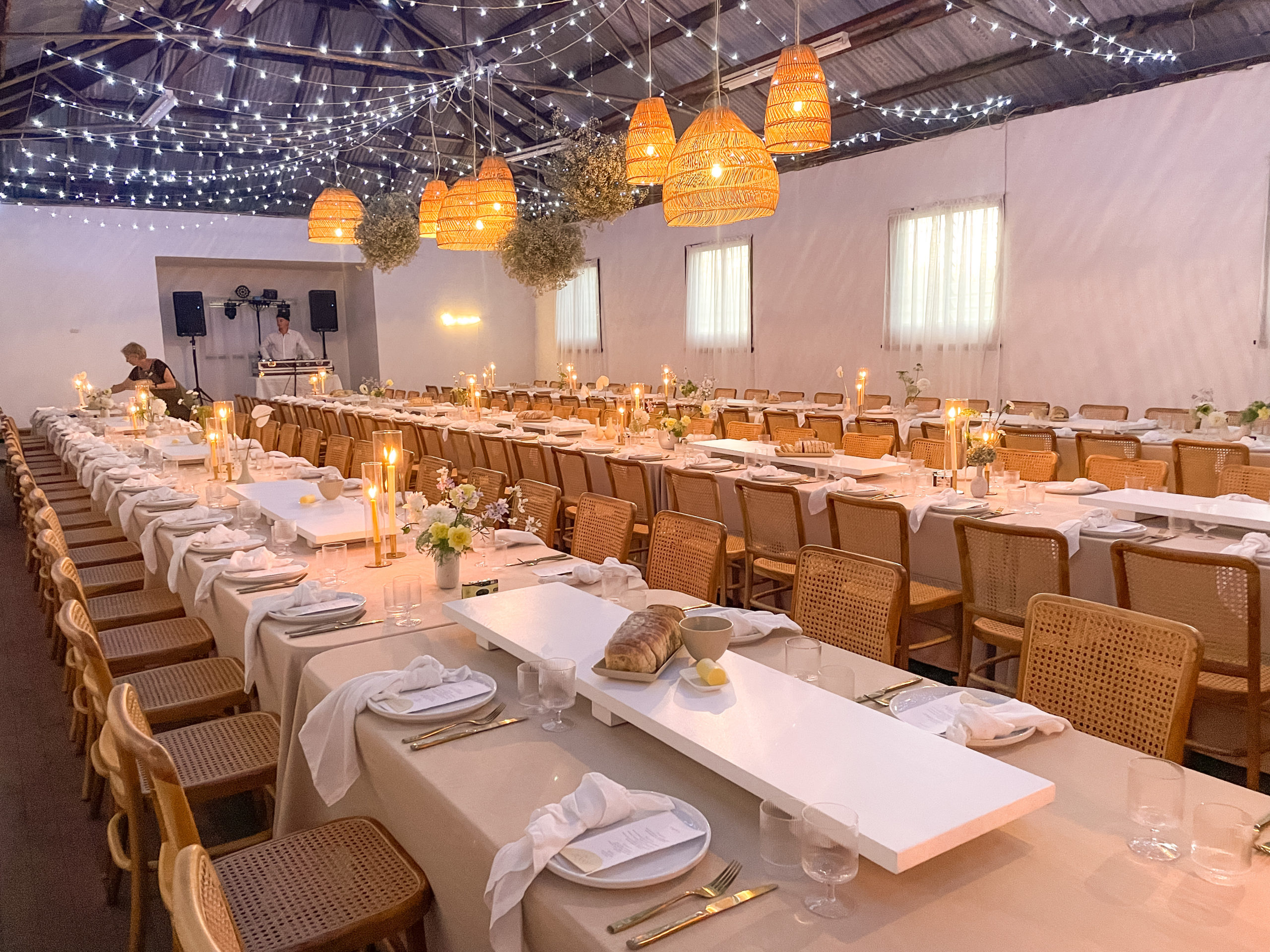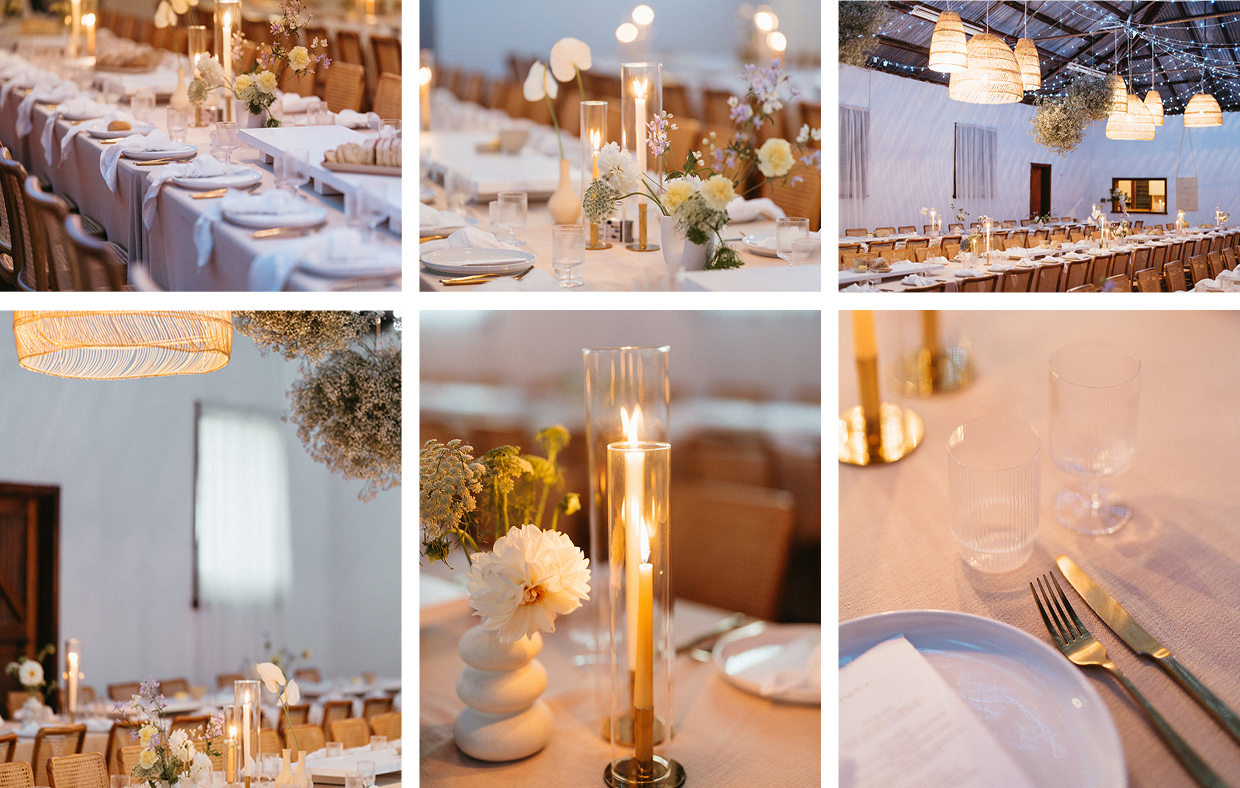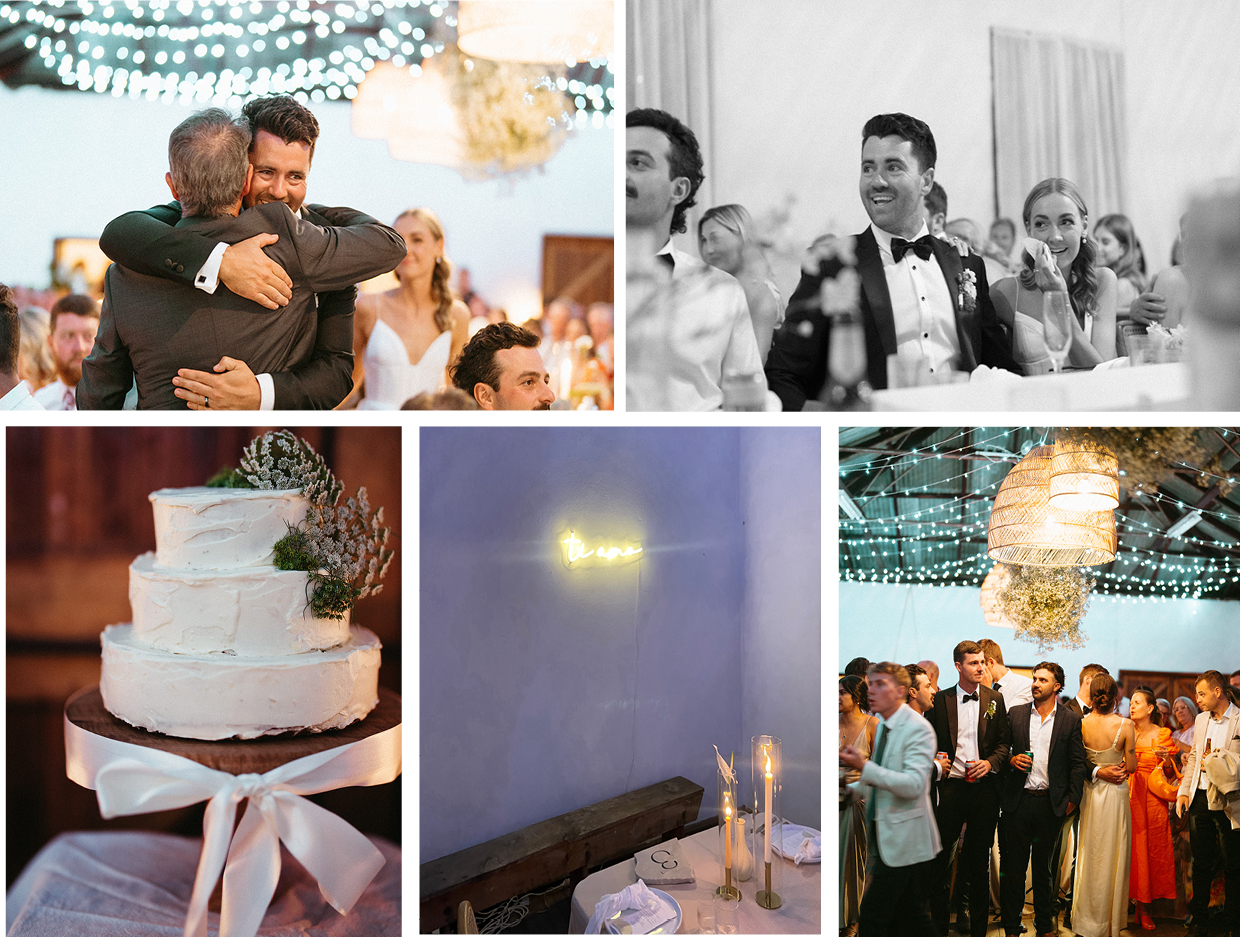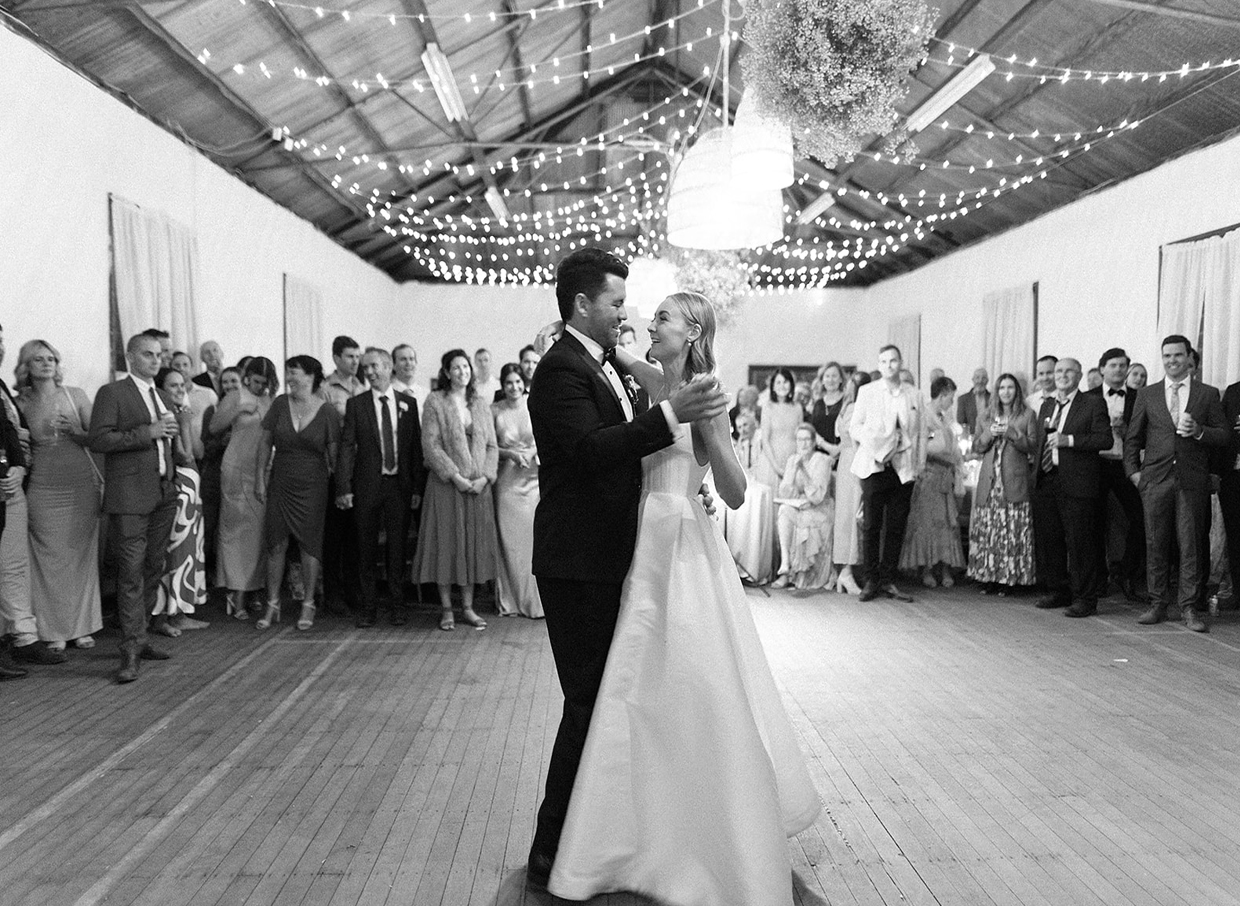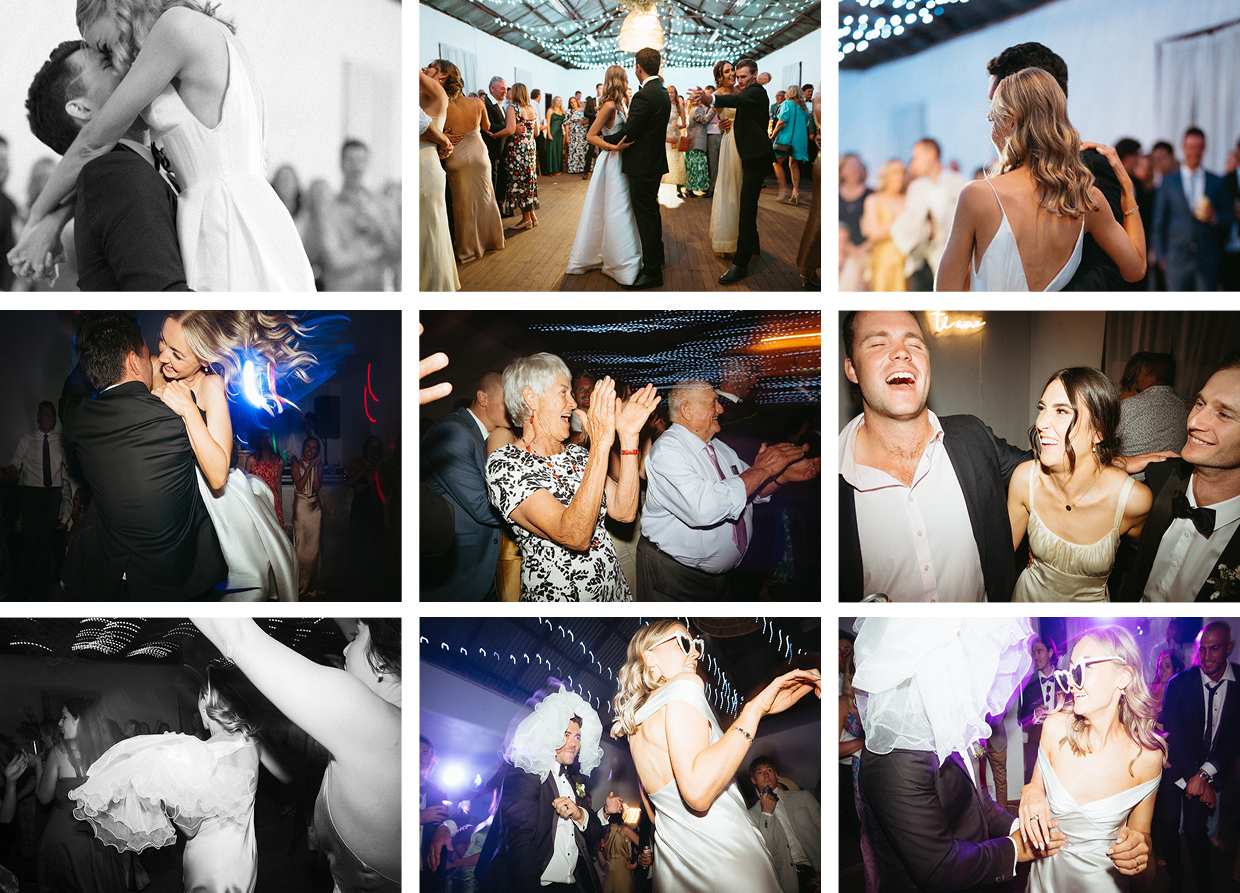 DREAM TEAM VENDORS // Photography @_thelovediaries | Videography @noordinaryloveweddings | Celebrant @jennyfisherweddings | Florist @goodbatchco | Catering @supper_road | Furniture Hire @hire_in_style_wa | On the Day set up & Coordination @hire_in_style_wa | Acoustics @jakeandlaurenmusic  | DJ @kaagramusic | Stationery @saje.creativeco | Hair @amandabarretthair | MUA @torioverstonemua | Sam's Dress @alexperryofficial @bluebellbridal | Second Dress @natalierolt | Shoes @loefflerrandall | Matt's Suit @danielhetcherau @brittonsperth  | Matt's Shoes @rmwilliams