If there is one thing your wedding can't go without, it's an invitation!
It's the who, where, when and why of your wedding day. It sets the tone, it communicates and informs, and it gives off a whole lot of happy vibes when it is received by your guests.
Whether your invitation resembles a 3 piece suite of letter pressed paper, or it's a simple text message with a link to your wedding website, there are a few invitation 101's that need to be covered before you hit send.
 Let's dive in…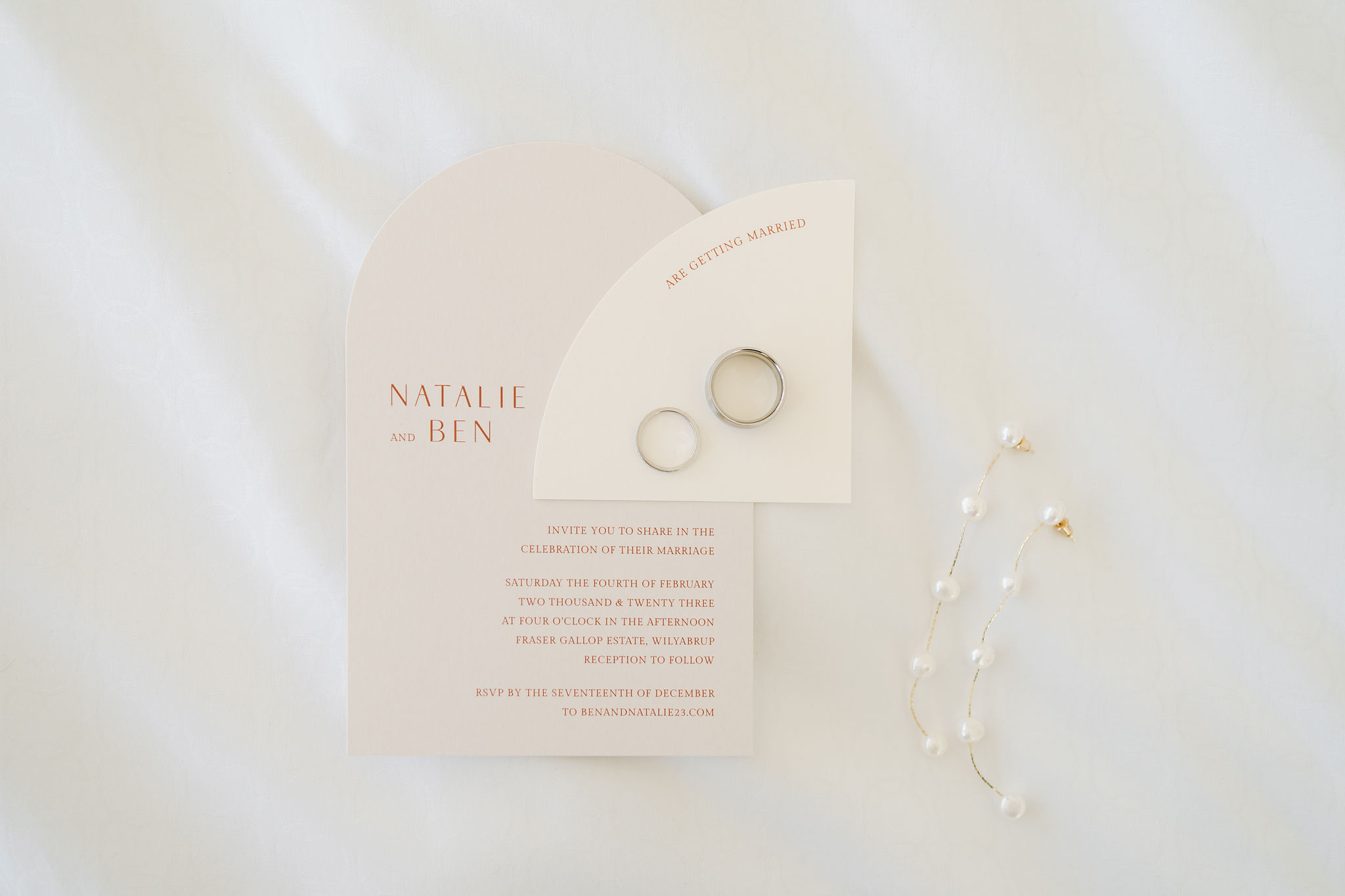 INVITATION MEDIUM
Printed or digital?
Before we tackle the must-haves of what to include ON your invitation, we need to discuss your invitation style.
With tradition becoming more of an 'optional' term in today's wedding world, so does the need to send physical invitations. So, what is more your style – printed, or digital, or both!?
No way is it better than the other, it all comes down to personal preference. Let's discuss the pros & cons of each:
PRINTED
Pros:
– The options are endless – colour combos, paper textures, die cut shapes, letter press, emboss, multiple piece stationery suites, printed envelopes… If you have a creative mind and appreciate design, then this is the biggest pro of all!  
– It's a sure way to create some buzz about your wedding before the date.
– It makes your guests feel totally special when they see a pretty envelope sitting in their mail box.
– You will have a keepsake for your wedding box or album.
– You can use your invitation in your 'details' shot.
– They will take prime position on your guests fridge in the lead up to the special day.
– You can still host a wedding website while also having a printed invitation – it's the best of both worlds!
 Cons:
– It can be a costly item. Printed invitations include the cost of paper, printing and labour of your stationery designer if you are going for a custom suite. And of course we can't forget the cost of postage! All of these things will need to be factored into your wedding budget if you are considering printed invitations.
DIGITAL
Pros:
– It's a lot cheaper – with less fees involved, your stationery budget can be kept better under control.
– Digital invitations make it a lot simpler to keep track of RSVPs.
– You can easily update your guests with wedding related details throughout the leadup to your wedding date.
– Digital invitations are an environmentally friendly option.
Cons:
– You won't have a physical copy of your invitation to keep as a keepsake.
– Elderly guests or guests that aren't so tech savvy, may find it difficult to navigate your wedding details and RSVP process.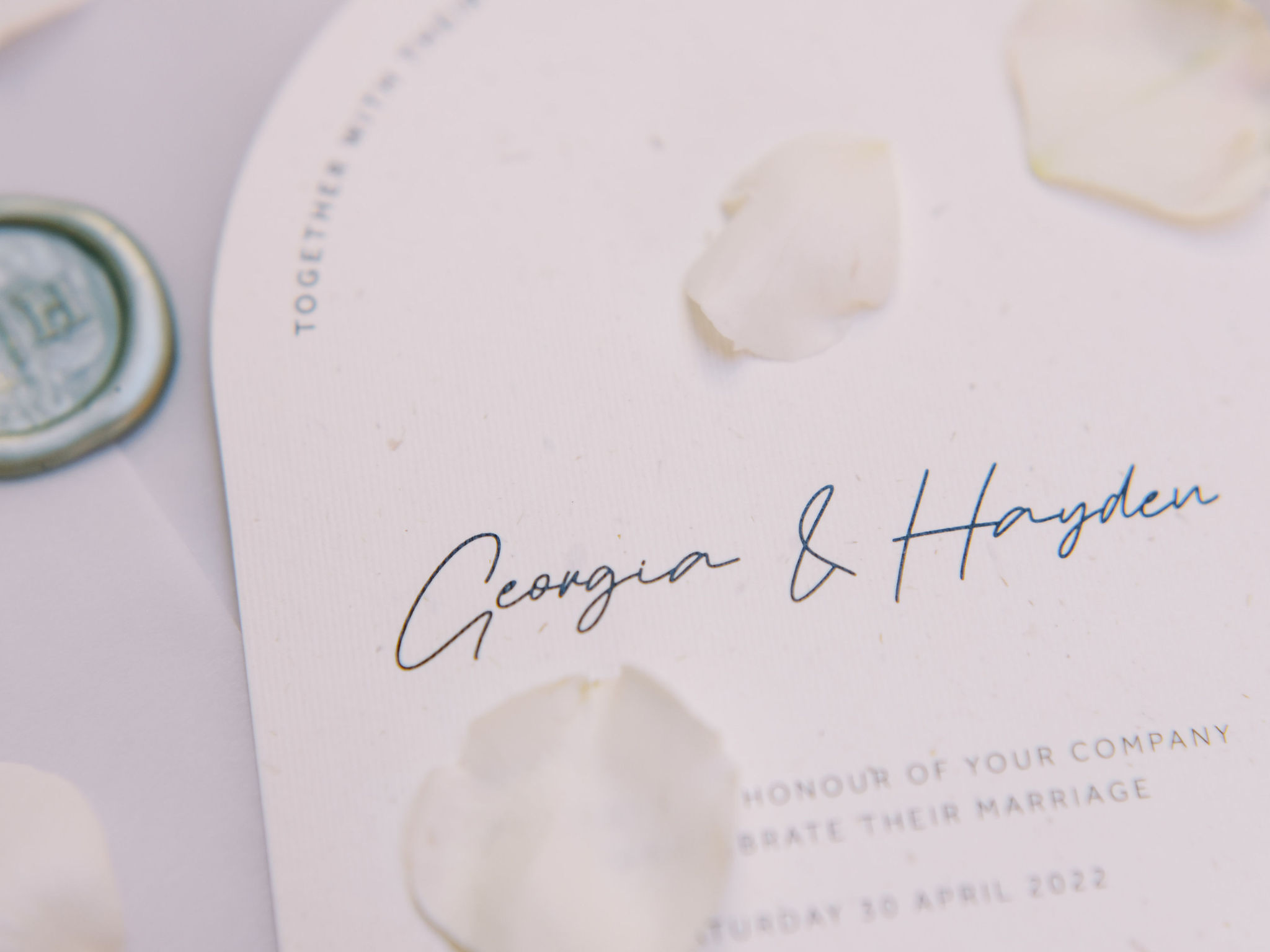 INVITATION DETAILS
The must haves, and the optional deets – what do your guests need to know: 
Must have details:
Who: The couple – include your full names, first names or your nicknames, your tone of voice is completely up to you.
What: The occasion, AKA your wedding – include a line to recognise that your invitation is in fact, an invitation to your wedding.
When: The date –  the day of the week is an optional.
Where: Your venue, the location (address and the city). If your ceremony and reception are being held at different locations, be sure to mention both.
Time: Ceremony start time – be sure to make this clear, you don't want your guests missing the main show. 
RSVP: Your RSVP deadline and where to send it – whether it be an email, phone number or your wedding website.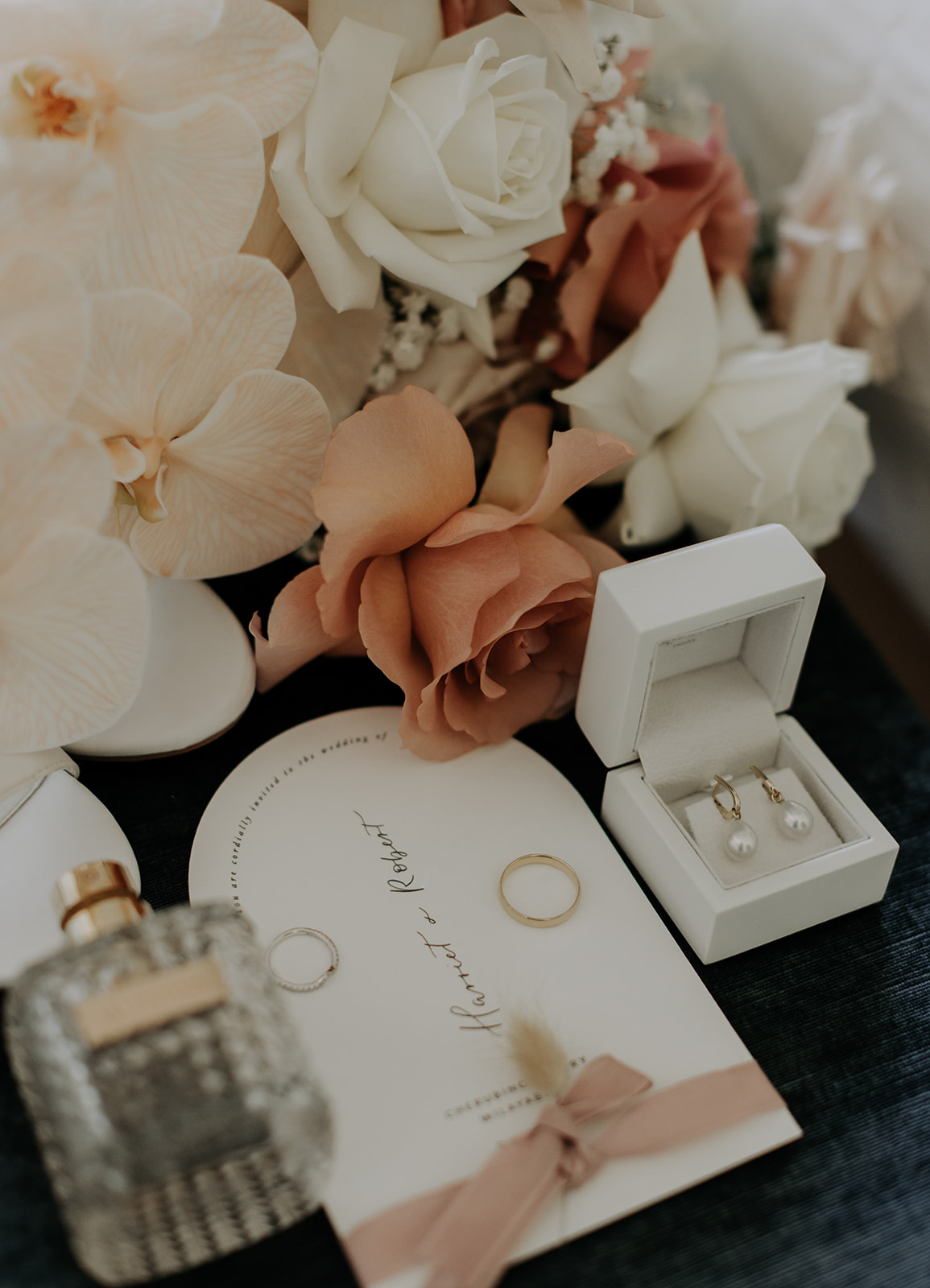 Optional extras:
 You may want to include a separate details card to your stationery suite, or maybe you have also opted to put together a wedding website to collate your RSVPs. Here are some extra details to include:
P.S.: Hosting a destination wedding? We strongly encourage you to include the following details… 
Dress code: Black tie, formal, semi formal, cocktail – let your guests know how to dress for the occasion.
Transport: the 'getting there' section. For destination weddings, this one is a biggy! If you are arranging buses to transport your guests to and from the venue, then use this prompt to provide details on pick up locations and times.
Accommodation: Planning a destination wedding, or multiple day event? It's worth sharing details on local accommodation options for your guests.
Adult only affair? If your wedding is a strictly, no kids event, then this is your opportunity to say it to your entire guest list without having to have any awkward conversations.
Gifts: Opting for a registry, gifts table or wishing well? Say it here.
Dietary requirements: This is a good inclusion to put with your RSVP details, so when the time comes to update your caterers on your guest list, you aren't left chasing up your guests on their requirements.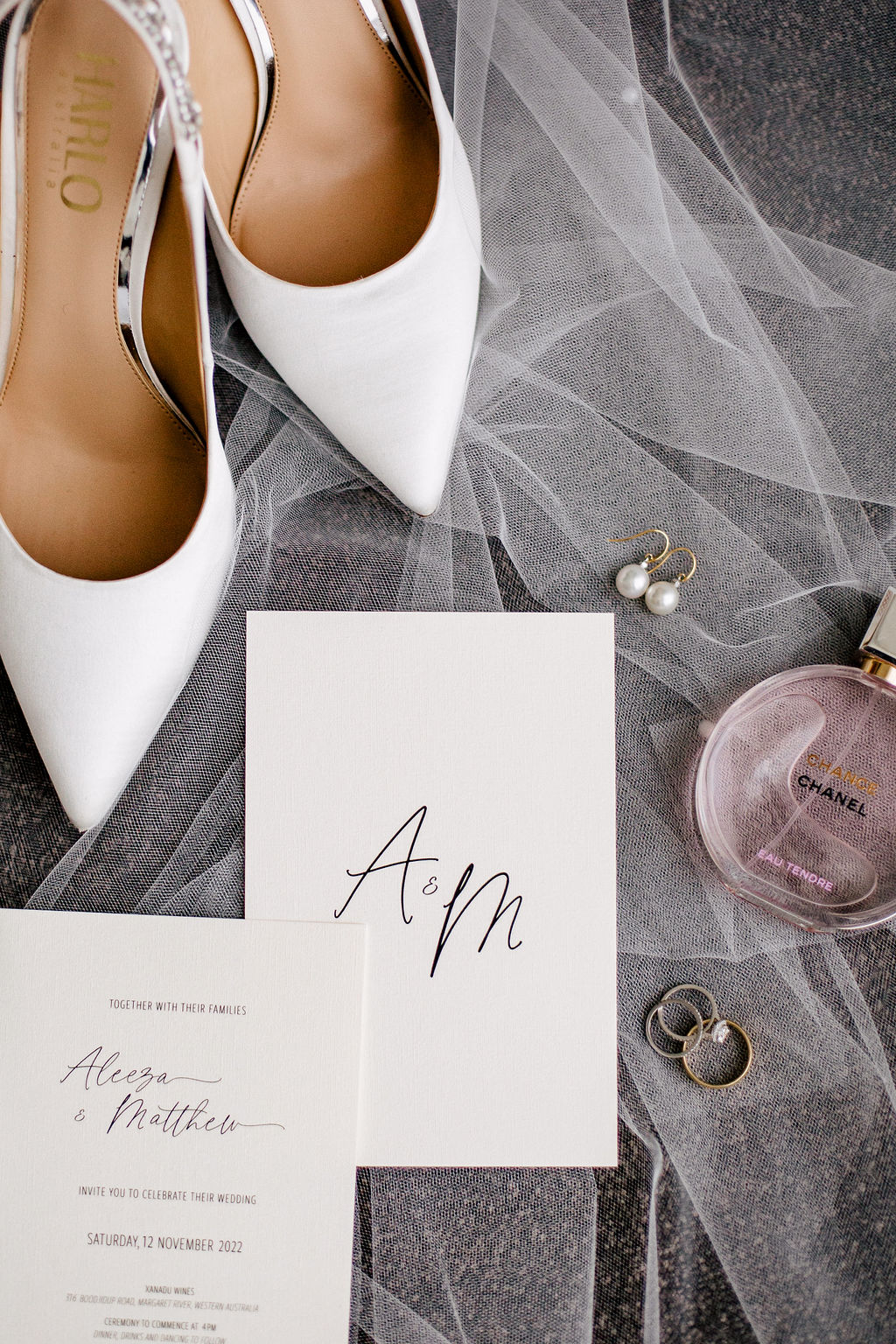 Invite FAQS:
When should our RSVP date be?
If you are hosting a sit down reception, we recommend your RSVP date be set 6 weeks prior to your special day. This will leave you with enough time to finalise other stationery items such as your seating chart and place cards, and will provide you time to coordinate your menu requirements with your caterer.
When should we send out our invitations? 
Destination weddings (interstate or overseas) / multiple day celebrations – send a save the date! We suggest giving your guests as much notice as possible so they can book flights, accommodation, request time off of work and plan. You can do this as early as you see fit, especially if you are planning a long engagement. 
For local weddings, aim for your guests to receive their invitation 4 months our from your wedding date.
How can we avoid people asking for a plus one?
Make it clear on your invitation who is actually invited – clearly state who is receiving your invitation on the envelope by including your guest names only (avoid using terms such as 'Thompson Household' unless you are inviting everyone in the household! Or, include your guests names on the invitation, OR RSVP card itself. 
What are some nice ways to say we aren't having kids at our wedding?
 Here are some examples for your details card or website:
"We love your little ones! However, to allow all of our guests, including parents, the chance to have an evening of relaxation, our wedding will be an adults only affair."
_
"As much as we love your little ones, this will be an adults-only celebration. We hope this notice means you're able to let your hair down and celebrate with us on the day!"
_
"Unfortunately, our venue is unsuitable for children under 16. We hope this will allow you a much-deserved night off to celebrate with us!"
One last final tip:
Your invitation is the first impression your guests will have of your wedding, so make it pop! Work with your stationery designer to create something totally unique that compliments your wedding style.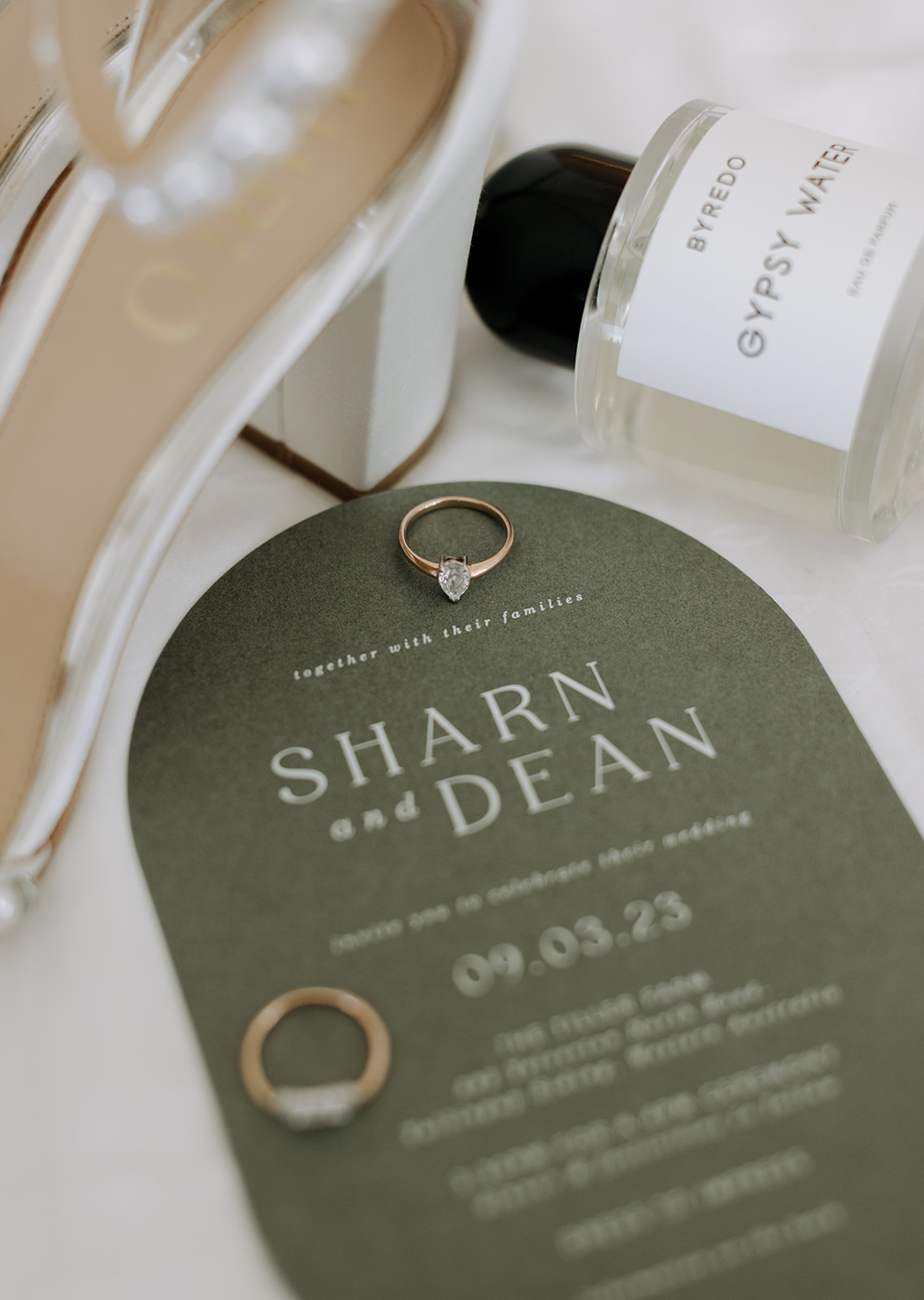 ​​​​