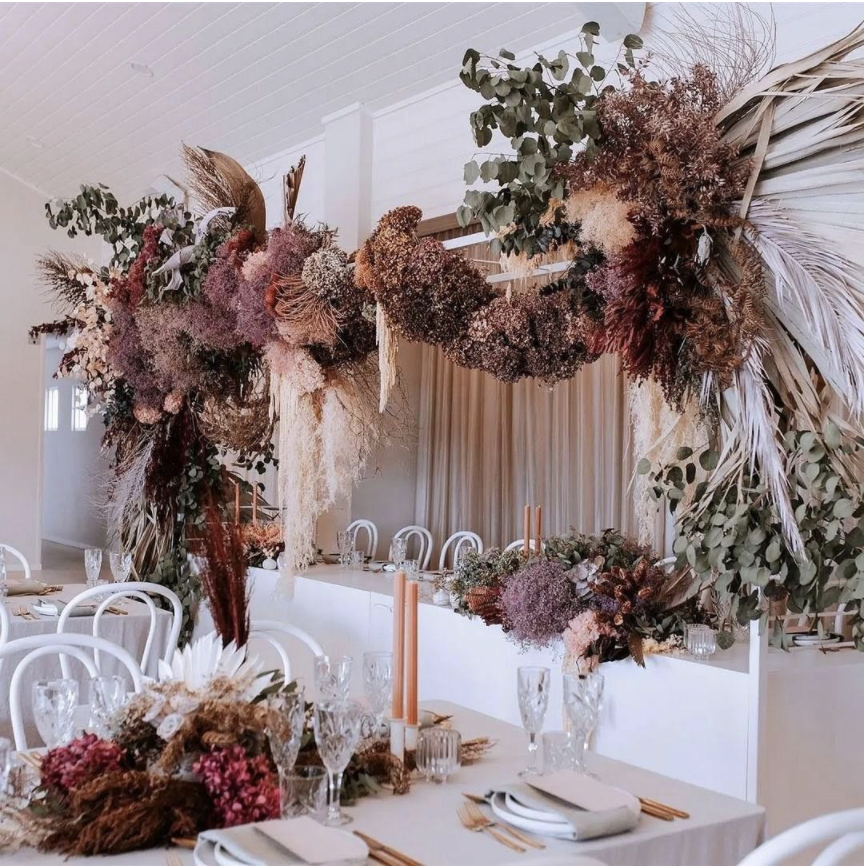 The reception is here and you can finally sit your bum down, have a drink and refuel with your best mates who have supported you throughout your special day. The bridal table is your space to unwind and debrief the day as well as sit pretty for a barrage of photographs and kiss your spouse when demanded by the sound of knives clinking on champagne glasses.
You want this space to be as stunning as the rest of your reception space, but you want to add in an extra special flair to set it apart too #helloVIP.
Recently we had the privilege of collaborating with some stellar vendors to showcase the Grand Chardonnay room at the stunning Aravina Estate. Let us take you behind the scenes to show you how to create a stunning bridal table that will wow your guests and make you and your bridal table feel pretty damn special to be seated there.
Essentially there are two things you want to achieve when designing your bridal table. First, you want to tie it in with the rest of the styling in the room and, second, you want to elevate it with special features so it stands out.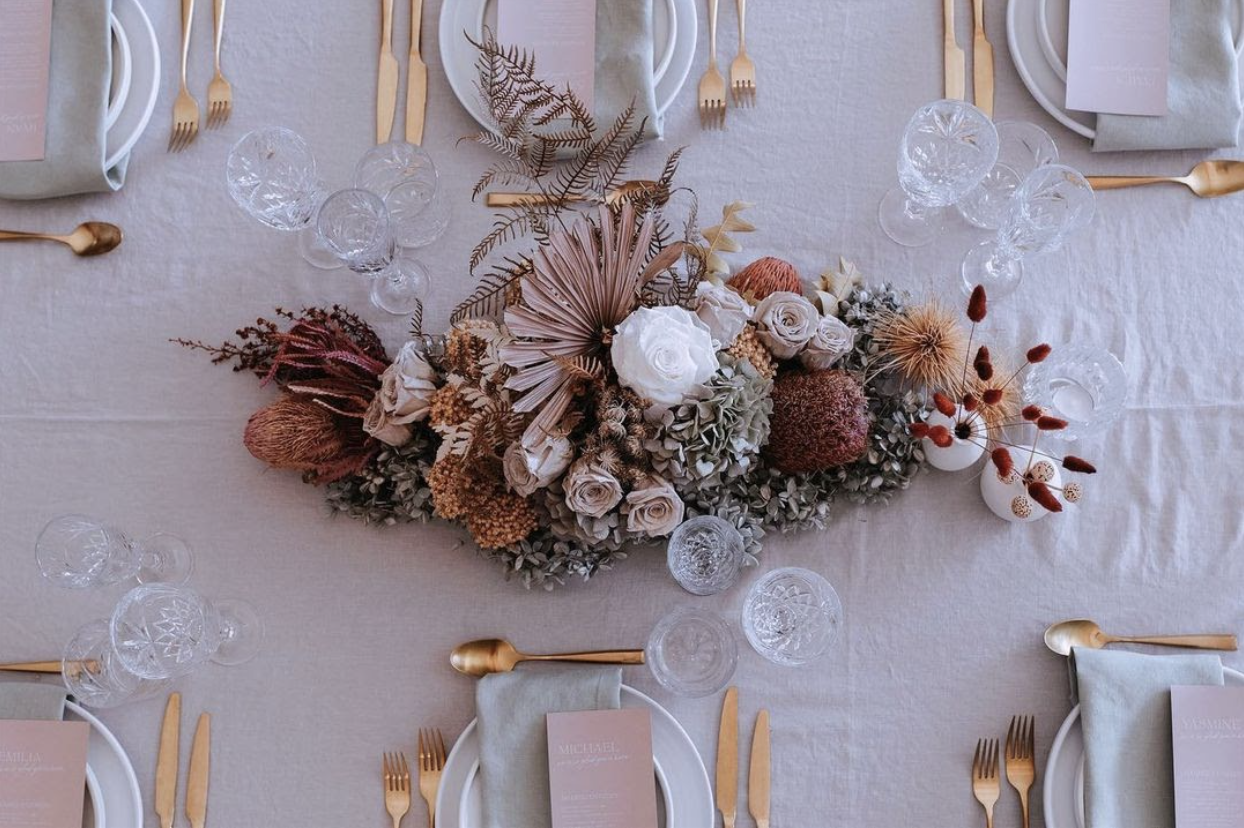 1. Tying everything together
When choosing what items to hire for your bridal table, you can either include the same tableware you have chosen for your other tables, or choose tableware within the same colour palette.
Here in the Grand Chardonnay room, we've gone with the former option and matched the tableware on the bridal table to the other tables (see image above). With the exception of the grey linen tablecloth, all other hire items match the bridal table. Our white lipped dinner and side plates lay beneath crisp sage linen napkins and stunning blush pink menus (by Emma Louise Design). Together with our matte gold cutlery and crystal glassware the whole table sings in harmony with the beautiful floral arrangements (by Lara Rose Botanical Stylist) that bless all the tables in the room.
With the tables having common tableware or atleast a common colour palette, the bridal table will tie in nicely with the rest of the room. Now all that is left to do is add some special features to the bridal table to take the styling to the next level and make it the hero in the room.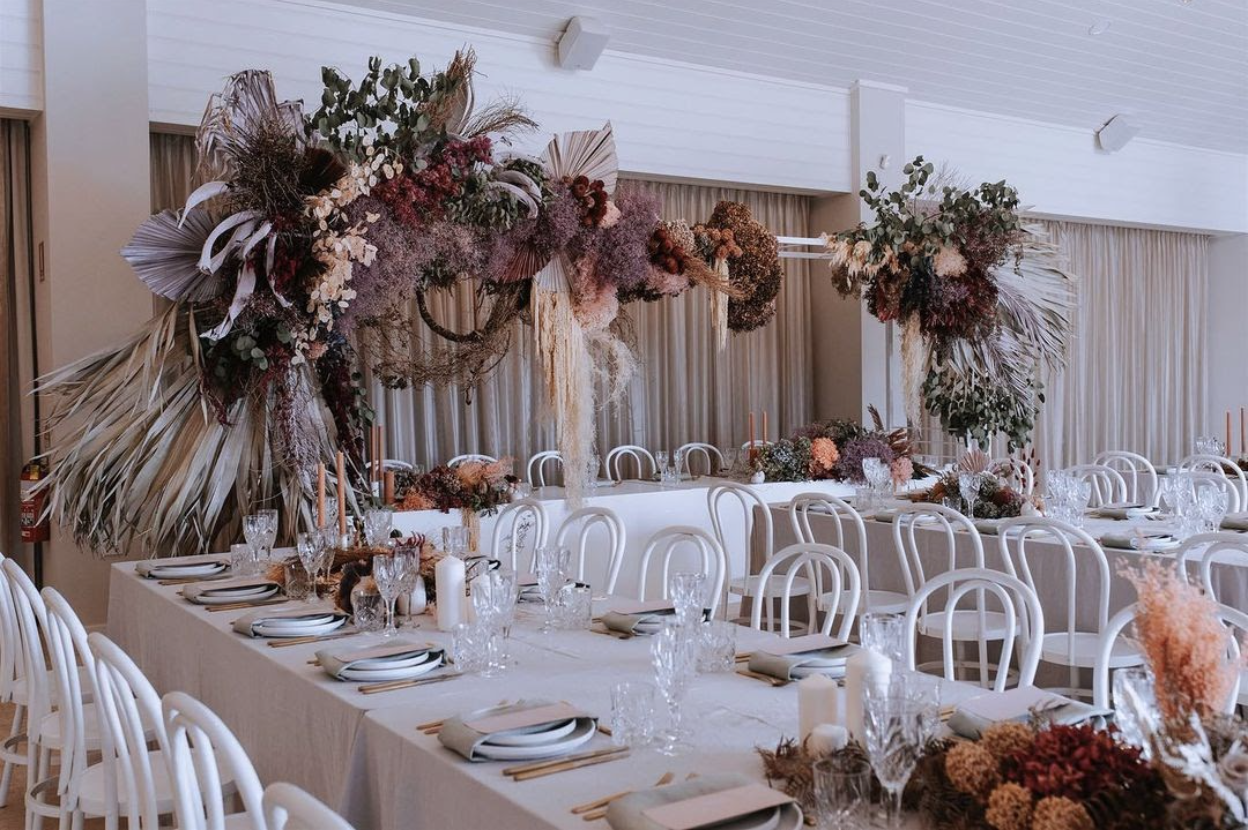 2. Setting your bridal table apart with special features
With this stunning display above, how could the bridal table NOT be the first thing you see when entering the room?
The bridal table we've put together here has two distinctive features. First, distinguishing it from other tables, our white acrylic bridal tables are not dressed with a tablecloth, allowing it to be a point of difference.
(Just as an FYI, one very cool feature about our acrylic tables is that you can add custom decal stickers to the front of them to add a personalised element. That will definitely make it stand out!)
Secondly, our metal feature frame sits above the table and is adorned with the most stunning display of floral wizardry (again by Lara Rose). This installation ties in with the tabletop florals but takes things to that next level. 
There are lots of items you can use to create special features on or around your bridal table. From mesh floral backgrounds to hanging installations to custom acrylic signs backdrops, we have lots of options to level up your bridal table.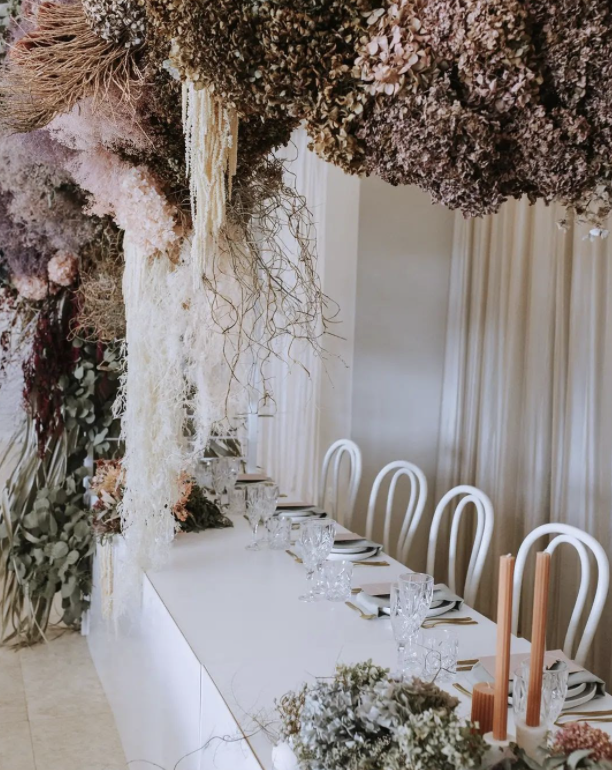 Ultimately, the effect you want is a show stopping wow factor that not only helps you find your seat easily, but makes you feel so special while sitting there.
We had such fun working on this project!  Get in touch today to see how we can work with you to create a bridal table styled to perfection for your special day. 
Special thanks to the dream team:
Venue: Aravina Estate 
Hire items and styling: Yours truly
Flowers: Lara Rose Botanical Stylist
Photography: Jessica Josie Weddings 
Stationary: Emma Louise Design