After every spectacular wedding comes the pack down. And it ain't pretty.
A peek into the skip bin in the reception car park and you will find it filled with any and all rubbish – from once-stunning floral installations to bottles, kitchen waste and the menus you spent hours assembling.
Low waste is a lifestyle many are working towards, and it can be hard. But your efforts towards low waste don't have to go out the window when planning your day –  just thoughtful, considered decisions and the desire to find alternatives that are kinder on the earth. Here are just a few tips to consider when embracing a low-waste wedding.
Hire
No doubt one of the easiest ways to save money and to reduce waste is to hire anything you don't already own or can borrow. Think it's cheaper to buy some things? Maybe, but there are no guarantees that you can on-sell them easily or even for what you bought them for when every couple has the same idea. And there is no comparison when those items end up in landfill when second-hand shops can't sell them.
Photo credit: Ben Yew Photography, Black Bird Tale, In the Wilds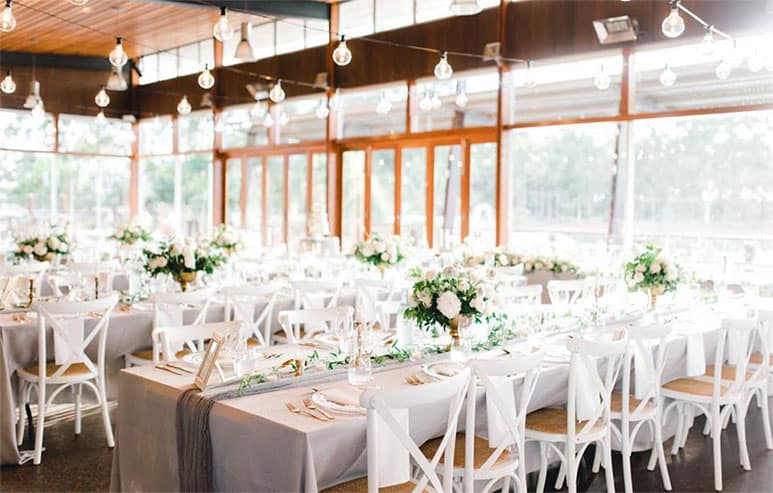 Think Seasonal
Share your low waste ethos with your florist and choose local, in-season florals. Your florist will have contacts with local growers and they are more likely to be spray-free, without packaging. Bonus: native blooms and foliage dry out beautifully so you can love on your wedding fleurs for years to come. Spray-free means you can happily pop them in your compost when they are ready to return to the earth.
Photo credit: Jessica Liebregts Photography and Samantha Simone Photography
Buy pre-loved
Op shops and the internet are bursting with second-hand or pre-loved dresses and gowns worn once or not at all. You will save not only your dollars but also the water, energy and labor it takes to grow or manufacture the fabric from scratch. Make it a challenge for bridesmaids to find their dresses with one rule – they can't buy it new!
There are more and more jewellers who specialise in ethical jewellery and most jewellers are happy to take your old jewellery and turn it into a one-off design truly unique to you.
Responsible service
Discuss with your venue and caterer ways you can work together to minimise waste from your food and drink service. Many will be totally on your wavelength and will be more than happy to make this happen. Reusable or home compostable serving ware, glassware and cloth napkins are easy ways to cut down on waste. Kegs cut down on cans and bottles. Set up a separate bin system for compost, recyclables, soft plastics and garbage and dispose of them responsibly afterwards.